Professor Misty Hathcock Earns Outstanding Contributions to Teacher Preparation Award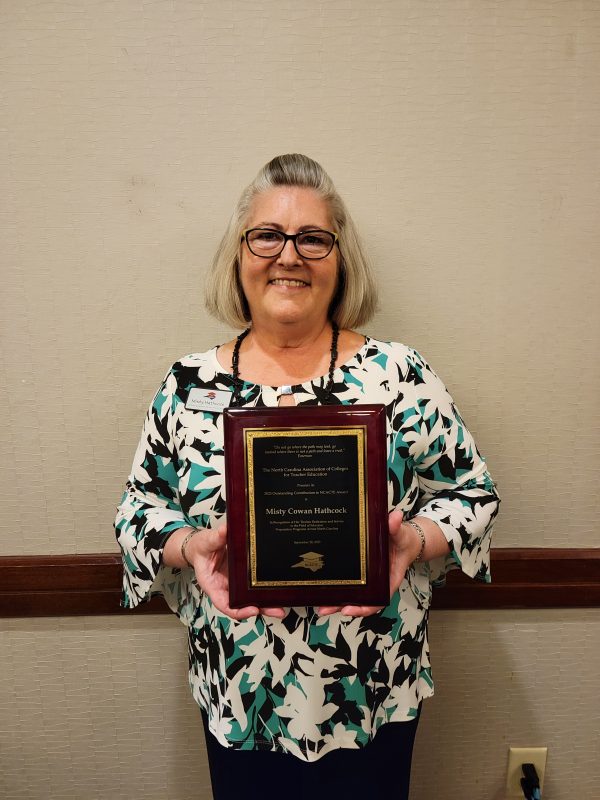 Cato College of Education clinical professor Misty Hathcock has been honored with the 2023 Outstanding Contributions to Teacher Preparation Award by the North Carolina Association of Colleges for Teacher Education (NCACTE).  Hathcock is the Director of Alumni Engagement and New Teacher Support Program at UNC Charlotte and has a deep educational background as a five-time graduate from UNC Charlotte and a fifth-generation educator.
Hathcock is an active member and currently serves as the National Board President for Kappa Delta Pi (KDP), the largest educational honor society in the United States with 675 university Chapters and more than 20,000 members. Under her leadership beginning in 2005, the Omicron Pi chapter at UNC Charlotte has received numerous awards and recognition for its achievements in promoting education, including six Achieving Chapter Excellence (ACE) Awards, and the ACE of the ACE Award, which is presented to the best chapter in the country.
In her capacity as a university supervisor, Hathcock has mentored 320 elementary education student teachers and has personally supervised and nominated multiple NCACTE Student Teacher of the Year award recipients.
"While she may be best known for her impact on teacher candidates at UNC Charlotte, her expertise and experience as a coach and mentor situate her as a leader in North Carolina. When I think of the success NC New Teacher Support has been in the Charlotte region, I think of Dr. Hathcock. She is an educational force," said Diana Lys, Assistant Dean for Educator Preparation and Accreditation at UNC Chapel Hill and NCACTE Board President
Hathcock is a recipient of the Bonnie Cone Lifetime Achievement Award and Distinguished Alumnus Award from the UNC Charlotte Alumni Association, Southeast Counselor of the Year by Kappa Delta Pi Honor Society, and the Public Service Award from the Southwest Education Alliance.
She started her career at UNC Charlotte in 1998 as the first full-time Teaching Fellows Director and Hathcock's impact extends throughout the state, where she has provided support to hundreds of teachers across multiple school districts.
"North Carolina needs more comprehensively prepared, caring, and committed teachers than ever before. We can only have amazing teachers when we have committed, caring, and innovative teacher educators like Dr. Hathcock who instruct, coach, mentor, and collaborate with teachers at all stages of their careers'" Lys said. "This work is critical to the future well-being of North Carolina, its children, schools, and economy, and Dr. Hathcock has been at the forefront."