Celebration of Life: Dean Emerita Mary Lynne Calhoun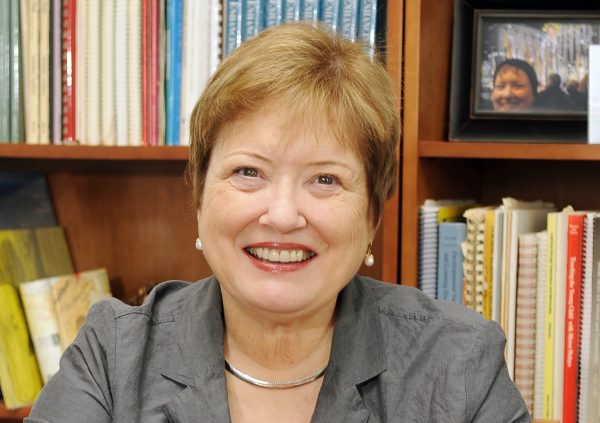 Dean Emerita Mary Lynne Calhoun passed away peacefully on Sunday, May 21, 2023.
Calhoun retired from UNC Charlotte in 2013 after 31 years of service as a member of the faculty and a leader in the Cato College of Education.
She arrived at UNC Charlotte in 1982 as an assistant professor of special education before rising through the ranks. In 1996, she was named chair of the Department of Counseling, Special Education and Child Development, and, in 1999, she was appointed dean of the Cato College of Education.
Under Calhoun's visionary leadership, the College grew its faculty members and enrollment, refined its mission and created programs to better meet the needs of Charlotte and the State of North Carolina. The College also became a model in promoting diversity. The number of faculty from underrepresented groups greatly increased, attention was given to the growing Latino population and multicultural issues were built into the curriculum.
Calhoun oversaw the expansion of graduate education by adding doctoral degrees in counseling, curriculum and instruction and special education and master's degrees in teacher education and teaching English as a second language, which doubled graduate enrollment during her tenure.
"Professional educators transforming lives" became the conceptual framework of college programs in teaching and research. Additionally, the College served as a national model, receiving distinguished reviews from the National Council for Accreditation of Teacher Education and the N.C. Department of Public Instruction.
In 2010, the College was selected to be a site of a Children's Defense Fund Freedom School, providing a literacy-rich program for children impacted by poverty while providing an exemplary summer learning experience for teacher education candidates. The School became one of few sites in the country housed on a university campus.
Calhoun was honored with the Faculty Service Award from the UNC Charlotte Alumni Association in 2012 for her distinguished service to the community, along with bringing recognition to the University.
In 2014, the atrium in the Cato College of Education was dedicated in Calhoun's honor for the indelible mark she left on the College and her role in advancing its reputation and impact in the field of education.
"Dr. Calhoun was an amazing leader for our College. Her positive impact on the people and the programs continues to this day. And for all of her excellent leadership qualities, she was an even better person. Dr. Calhoun's profound legacy will continue to define our College," said Malcolm Butler, dean of the Cato College of Education.
Calhoun's teaching career began in 1968 in the Cincinnati Public Schools as what is now called a lateral entry teacher. She taught children with special needs in Ohio, Michigan, Georgia and South Carolina before arriving at UNC Charlotte in 1982.