Professor Adriana Medina Wins Bank of America Award for Teaching Excellence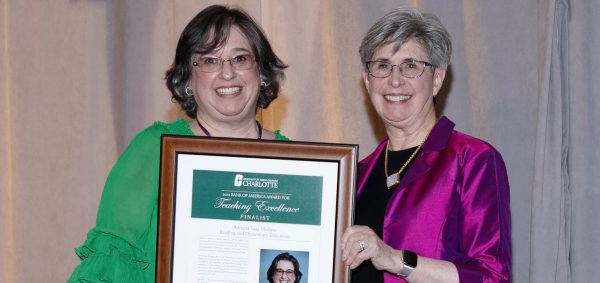 Professor Adriana Medina has won the Bank of America Award for Teaching Excellence.
Medina is an associate professor of reading and elementary education in the Cato College of Education. She is a global educator — using study abroad opportunities to expand her students' perspectives of education beyond the United States, while enhancing their understanding of different cultures, languages and educational systems as they work with professionals and children in other countries. She developed study abroad programs in Brazil and Germany and has been integral in sustaining and creating academic partnerships with international institutions.
"To be a good global educator, I challenge myself to gain knowledge, form dispositions and build capacity within myself to understand, participate in and act on issues of local and global significance, as well as educate myself about cultures and regions of our world," said Medina.
"Dr. Medina's teaching philosophy is guided by the importance of experiential learning, where students are actively engaged and participating in experiences that enhance their growth," said Michael Putnam, chair of the Department of Reading and Elementary Education. "She is focused on providing relevant experiences that are directly informed by and connected to the community and world."
First presented in 1968, the Bank of America Award for Teaching Excellence award honors outstanding tenured teachers and provides an example of the University's commitment to excellence in teaching.
Medina was honored during a ceremony at the UNC Charlotte Marriott Hotel & Conference Center along with award finalists.