Professor Ryan Miller Earns Bonnie E. Cone Early-Career Professorship in Teaching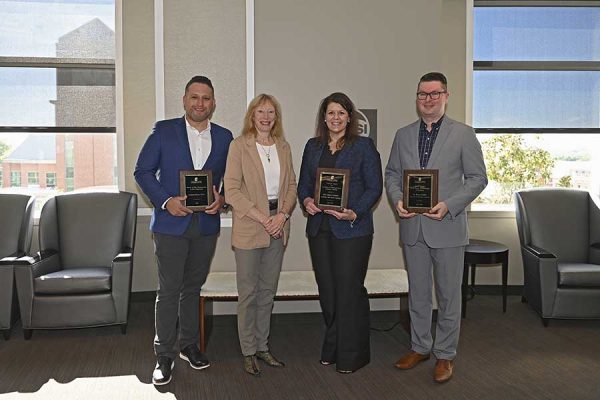 The Office of Academic Affairs recognized faculty and an academic unit for exemplary work in the areas of teaching, advising and civic engagement at the annual Provost's Awards Reception.
Winners of this year's Provost's Awards are Carlos Cruz, associate professor of theater and program director of the Master of Fine Arts in community-centered practice; Ryan Miller, associate professor of educational leadership; and the Belk College of Business Academic and Career Coaching team.
"Teaching, advising and civic engagement are vital to UNC Charlotte's mission to educate and prepare students for their chosen careers, while also addressing the needs and challenges of the Charlotte region," said Provost Alicia L. Bertone. "The recipients of this year's Provost's Awards have done outstanding work in these three areas, and I am proud to call them colleagues."
Bonnie E. Cone Early-Career Professorship in Teaching
Cato College of Education professor Ryan Miller is this year's recipient of the Bonnie E. Cone Early-Career Professorship in Teaching. This annual award goes to a faculty member who has earned tenure within the last three years and who has demonstrated a commitment to teaching at the beginning of their academic career.
Miller has played a significant role in helping Charlotte's Higher Education program increase enrollment, attract highly qualified students and secure external funding. He has taught a total of nine master's and doctoral courses at Charlotte in multiple formats including face-to-face, hybrid and online synchronous and asynchronous formats. Six of the courses were new or completely redesigned.
Miller incorporates participatory techniques such as caucus groups, fish bowls and dyads into his classes, along with fieldwork, case studies, reflections and team-based activities to enhance learning. He sets high expectations for his students and as an instructor is vulnerable in the classroom, showing students that he continues to learn even in areas he has long studied. These techniques encourage students to take ownership of their learning process and to believe that their own experiential and academic knowledge is worth contributing in the classroom.
Miller is very committed to mentorship. He has mentored 12 master's students and up to 15 doctoral students in any given year. He has written 13 book chapters and 35 articles, many of which are related to scholarship of pedagogy.
Read more about the Provost's Award winners
Photo: Provost Alicia Bertone, second left, with Cruz, Miller and Lesley Harris, assistant dean and director of academic and career coaching for the Belk College of Business.