Student Perspective: What Getting a Scholarship Looks Like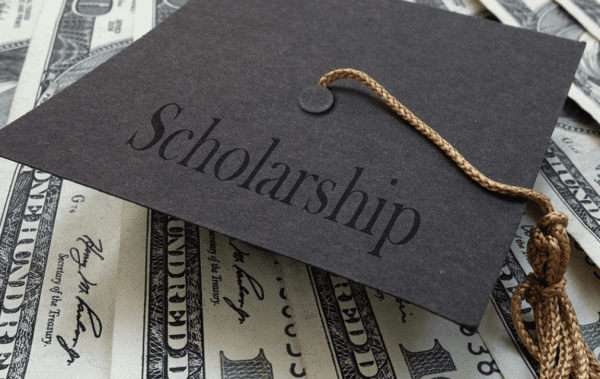 In 2016, John Cato and the Cato Corporation made a $5 million gift to establish the Cato Scholarship for Education and the Cato Award for Faculty Excellence at UNC Charlotte to help prepare a new generation of teachers. In June, Cato was awarded the UNC Charlotte Distinguished Service Award.
Amiya Ingram, a recipient of the Cato Scholarship, was among the students who were invited to the awards ceremony that also marked the 50th anniversary of the Cato College of Education.
There she met Cato and made a handful of professional contacts. Networking events like this, she said, are one of the many benefits of having received the scholarship.
Ingram, who is from Burlington, NC, was raised by a single father. As a child, her teachers were more than teachers.
"They were like second mothers," she said. "They would check up on me outside of school and ask how I was doing. That's the type of bond I want to cultivate with my students, because these types of figures and resources in their lives can be a driving force for a student early on."
She knew from a young age and firsthand experience how impactful a child's education can be. For her, it made all the difference.
"I knew that teachers can establish a relationship and a bond with a student that can end up being a transformative experience for them, especially early on in their academic journey. Students absolutely need a role model they can look up to and who instills in them a belief that no matter where they come from or what ethnicity they are, they can choose to be whoever they want to be," she said.
Ingram is now a sophomore majoring in elementary education with a minor in child and family development. She added that UNC Charlotte was her ideal choice because it is connected to a major city with countless internships and job opportunities.
"The scholarship has allowed me to explore, and immerse myself in, the program that reflects what I'm passionate about," she said.
The scholarship provides annual assistance amounting to 50% of the cost of tuition and fees to incoming freshman or transfer students who plan to major in a degree program offered by the Cato College of Education and can be renewed each year.
It has also allowed her to buy her books and class materials and begin saving for the future. Most importantly, she said, it motivates her to keep going.
"What it means is that there are people that recognize my work and see my passion, even beyond a strictly financial standpoint. I feel like they recognize me for what I've been doing, whether it's academic or volunteer work, and how I plan to impact young students, and that keeps me going."
See what other recipients of the Cato Scholarship are saying:
Tahmena Khanam
Being a recipient of the Cato Scholarship has affected my life in many ways. First, I don't have to worry about tuition. It's fully covered by grants and the scholarship. When I first transferred to UNC Charlotte, I was considered an out-of-state resident which made tuition expensive. It was impossible for me because I wasn't working during the pandemic. That's when it helped me the most. It also helped to cover book and transportation expenses.
Right now, I'm saving it for my future, because I'm not a big spender. I'm going to graduate in December. Most importantly, it has impacted me personally because I'm an immigrant. I'm the first in my family to be earning a B.A. So it is a big honor to be receiving a scholarship. I'm still learning to drive so it helps with transportation. This past semester my yearlong internship started. I went to an elementary school once every week. I was able to use the scholarship money to pay for rides. The scholarship has truly helped me pursue my goals in life and not have to stress over finances.
Kaitlyn Collins
As a first-generation student, it wasn't the academic demands of a university education that concerned me. It was figuring out how to pay for them. Because of John Cato's commitment to education, I've been able to focus on my studies without worrying about loans and having to work full-time. My dream of working in education is becoming a reality through the time and extra freedom afforded me by the scholarship. It's been an honor to have the opportunity to study at UNC Charlotte and to be supported by the Cato family. What it gave me is one of the most powerful tools we ever have in life: access to education.
Meghan McManus
For me, this scholarship has really helped me to focus solely on my studies. The Cato Scholarship has given me great financial freedom which enables me as a student to focus less on my finances and more on not only my education but my future as well. This scholarship has allowed me to envision a future where my students will have a teacher who is not tied down by financial burdens but free to give them everything they need and deserve.
Kelsey Romney
I am very grateful for the Cato Scholarship! I still remember the relief and excitement I felt as an incoming freshman when I learned that it had been awarded to me. At the time, even though I was excited to attend UNC Charlotte, I was very nervous and anxious about the financial cost. This scholarship helped to alleviate some of that stress and anxiety as I have pursued my degree in elementary education.
Elizabeth Edwards
Being awarded the scholarship has been such a blessing for me. It has allowed me to focus all my effort on school without having to worry about finances. This can be a big stressor for students. Finances are something that I think a lot about—that is, what I have to do to make ends meet—but the scholarship has lifted that burden. I just want to focus on getting a good education and preparing for my future as an educator.
In fact, the scholarship has really made it possible for me to continue my education. Getting my degree at UNC Charlotte is important to me because the program faculty cares about my future. I also want to be a teacher who cares and impacts the lives of her students every day from the moment they walk through my classroom door. The scholarship, therefore, is also changing the lives of children that my teaching aims to support and uplift.
Ana Treschl

The Cato Scholarship has been such a blessing in my life personally and professionally. It immediately opened up a network of connections in the Cato College of Education that have been and will continue to be useful now and when I enter the field. I had the chance to meet John Cato himself at his service award luncheon. The opportunities to build relationships ensure that as I develop my pedagogy, I will always have mentors and friends to guide me through.
As a student with my own learning disability, I chose to pursue special education alongside elementary education through the dual program at UNC Charlotte. Receiving the scholarship has allowed me to invest more time into my coursework, clinical experiences, and volunteer opportunities without having to stress so much about money. There I have the ability to work with students and connect with my passion that brought me to education in the first place. I'm so thankful for the scholarship fund's gracious award that benefits my education and the impact I will have on future generations of students.