Teacher Quality Partnership Drives Forward with Multi-Million Dollar Grant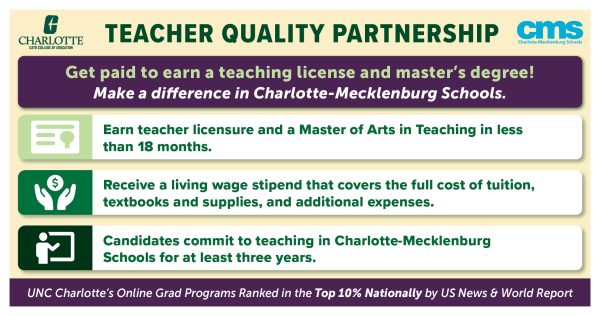 The Cato College of Education, in partnership with Charlotte-Mecklenburg Schools (CMS), the College of Liberal Arts and Sciences, and the Office of International Programs has been awarded a multi-million dollar Teacher Quality Partnership Grant. Led by Scott Kissau, Teresa Petty, Lan Kolano, Joan Lachance, and Michelle Stephan, Project TLC: Preparing Teachers of Language and Content will prepare teachers who meet the needs of all students.
Project TLC brings together three diverse cohorts of 12 teacher candidates, 36 in total, who complete customized curriculum and professional development leading to dual licensure in important subjects. Candidates will receive a $39,000 stipend and go on to teach at one of 12 identified CMS high-need schools, and receive two years of mentorship from a trained new teacher support coach.