Early Childhood Educators Honored for Excellence During Pandemic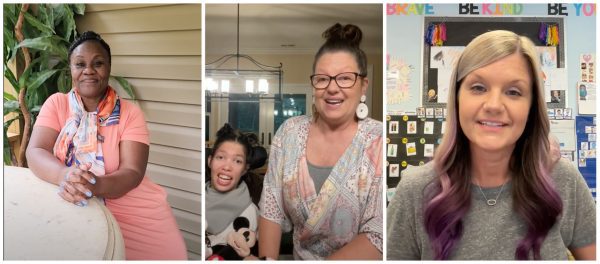 Early childhood educators across the country responded with empathy and creativity to support children and families during the COVID-19 pandemic. Now three leaders in the field are being recognized for their efforts with the B. H. Rowland Foundation Award for Excellence.
The foundation is the brainchild of special education doctoral student Amanda Vestal, who created the framework as part of her doctoral program portfolio. The organization is dedicated to recognizing and supporting the work of high-quality early childhood educators in North Carolina.
Given the need for resources in early childhood education, "the B. H. Rowland Foundation hopes to serve as a mechanism for offering opportunities to engage in professional growth and development and opportunities to be recognized and rewarded for innovative and high-quality practices," Vestal explained. The Award for Excellence is an important part of those efforts.
Award for Excellence Winners
Waynett Taylor is an inclusive child care coach in Cabarrus County. She led efforts to adjust coursework at the community to better address the emotional needs of both caregivers and the children they care for. She collaborated with community agencies and organizations to create a certification program for child care owners and directors, financial support for individuals pursuing certification or a degree in early childhood education, and piloted the infant-toddler trauma-informed program to address the social and emotional needs of child care providers and help them make changes to the classroom environment to better meet the needs of children.
Wendy Mabry is a lead pre-K teacher for four and five-year-olds in Stanly County. During the COVID-19 pandemic, Mabry increased her use of technology to ensure children felt part of a classroom community. She also prioritized building strong relationships with the families of children in her classroom through the use of newsletters, Class Dojo, positive phone calls, and monthly family involvement projects. The parent-teacher partnerships created through these efforts led to increased parental involvement and closer relationships with both children and their families.
Allison Gibson is a pre-K teacher for four- and five-year-olds in Gaston County. She used technology to help her students develop essential skills, and to build relationships with her children and their families. She coordinated events that allowed parents caregivers to pick up free materials for children to use in upcoming Zoom lessons and provided opportunities for children to lead Zoom activities. Gibson mailed letters to her children and included self-addressed, stamped envelopes so her children could send notes back. She also "sent herself" to the children in the form of a small, look-alike cut out so she could be "with the children" as they completed lessons and went about their daily routines.
Celebrating educators like Taylor, Mabry and Gibson aligns with the B.H Rowland foundation's mission to support North Carolina's early childhood educators and their ability to enhance positive outcomes for young children and their families.
"In May of 2024, we will celebrate our 3rd anniversary and the 95th birthday of our namesake, Dr. Bobbie H. Rowland," Vestal said. "To be part of this foundation alongside such an amazing group of human beings, to be part of something with the potential to make a real difference in the lives of early childhood educators, and to be part of Bobbie's life is a blessing and I am truly so grateful for this experience."
---
Bobbie H. Rowland, professor emerita, is the founder of the UNC Charlotte Child & Family Development program