Counseling Program Earns National Honor for Excellence and Innovation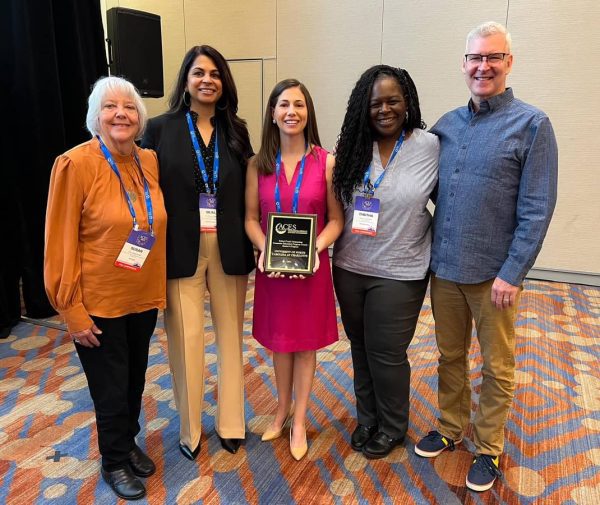 The Association of Counseling Education and Supervision has recognized the UNC Charlotte counseling master's program with the Robert Frank Outstanding Counselor Education Program Award for its excellence in standards and innovation. The national award is given to one master's and one doctoral program annually. The UNC Charlotte counseling doctoral program received the award in 2021.
"We pride ourselves on approaching counselor training by putting students first," said Professor Sejal Foxx, chair of the Department of Counseling. "Faculty members understand the importance of that, and consider the well-being of our individual students with as much care as we do crafting the lessons we share in the classroom."
The department's commitment to multiculturalism in counseling is one of its hallmarks, and is expressed in a variety of ways. The master's program offers a course directly focused on skills connected to multiculturalism, which are also incorporated across the curriculum. The UNC Charlotte counseling master's program is unlike many others in its movement away from the cohort model of instruction, creating flexibility and pathways to graduation for students who work full-time or have family responsibilities. The program uses data to inform admissions practices, which supports a holistic approach that promotes diversity among its students. In 2022, 35% of master's students were from racial and ethnic minoritized groups.
"Charlotte's counseling master's program is more than 50 years old, but it continues to evolve with strong faculty and engaged students," said Associate Professor and Graduate Program Director Clare Merlin-Knoblich. "It is exciting to see how the program continues to thrive and that our innovation comes from both faculty and students, who often challenge the status quo in meaningful ways."
Faculty members from the counseling master's program have served as chair and vice chair of the Council for Accreditation of Counseling and Related Educational Programs Board of Directors; editor of International Association of Addictions and Offender Counselors; co-editor of the Association for Counselor Education and Supervision Teaching Practice Briefs; and editorial Board Members for the Journal of Counseling and Development, the Journal of Multicultural Counseling and Development, Counselor Education and Supervision and the Journal of Humanistic Counseling.
UNC Charlotte's chapter of Chi Sigma Iota, the international academic honor society for counseling, is also highly engaged with the profession. Over the past 15 years, the chapter has been recognized for Outstanding Chapter, Individual Program, Entry-Level Student, and Practitioner Supervisor. Counseling students work directly within the community to create access to high-quality mental health services for thousands of people in need.
The counseling master's program offers degrees in three specialty areas: clinical mental health, school counseling and addictions.
The Outstanding Counselor Education Program Award was presented at the national Association for Counselor Education and Supervision conference in Denver, Colorado earlier this month.