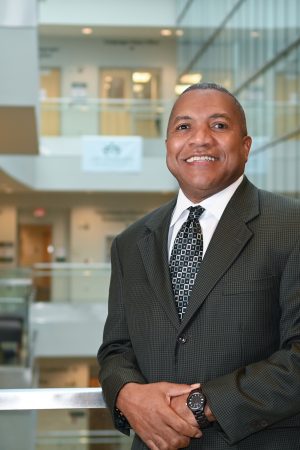 Malcolm B. Butler
Dean & Professor
Dr. Malcolm B. Butler is Professor and Dean of the Cato College of Education at UNC Charlotte. Butler was born in Lafayette, Louisiana. He spent his childhood in south Louisiana with his eight siblings and loving mother, Adlean F. Butler, and father, the late Lee Butler, Jr. Butler earned a B.S. in in Physics from Southern University in Baton Rouge, Louisiana. He also completed an MEd and PhD in Curriculum and Instruction (Science Education) at the University of Florida. Butler has taught and learned mathematics, science and life from elementary, middle, and high school students, as well as college students. He has been affiliated with several institutions of higher education, including the College of William and Mary, Texas and A&M- Corpus Christi, the University of Georgia, the University of South Florida, and the University of Central Florida. Some of his research interests include writing to learn in science, physics teacher education, and equity and diversity in science. Dr. Butler has secured over seven million dollars in funding to support his research and scholarly initiatives. He has presented his research findings and conducted workshops across the United States, as well as Canada, Japan, The Philippines, Singapore, Cyprus, South Africa and Botswana. He co-authored and co-edited three books and numerous book chapters and journal articles. He has served in leadership capacities in his profession, include board member of NARST (a global organization for improving science education through research) and Nap Ford Community Schools, Inc. (Orlando, Florida), chair of the board for the Council for Society Presidents, and president of the Association for Science Teacher Education. He is married to Rev. Dr. Vikki Gaskin-Butler, and they have one son, Malcolm Lee Butler.
Education
Ph.D.- University of Florida, 1995, Curriculum & Instruction (Science Education)
M.Ed.- University of Florida, 1991, Science Education
B.S.- Southern University, Baton Rouge, LA, 1989, Physics
Research Interests/Areas of Expertise
Science for diverse populations
Case-based pedagogy in teacher education
Multicultural science education
Writing to learn in science
Awards & Honors
Outstanding Longtime Service Award, Association for Science Teacher Education, 2020
Phi Delta Kappa International, 2002
Kappa Delta Pi International Honor Society in Education, 1998
"Top 40 under 40", Corpus Christi Caller-Times (Texas), 1998
Phi Kappa Phi, International Honor Society, 1995
Sigma Pi Sigma, Physics Honor Society, 1988
Community Involvement
Advisory Board Chair, Niner University Elementary School, Charlotte
Board Member:
Nap Ford Community School, Inc., Orlando, Florida
Holloway Environmental Education Foundation, Orlando, Florida
Selected Publications
McCurdy, R. & Butler, M.B. (In press). Wonderings about Klaren: Looking inward and outward on preparing teachers of science in a neoliberal society. Cultural Studies in Science Education.
McCurdy, R., Cruz-Deiter, K., & Butler, M.B. (In press). Preparing teachers of science for the multicultural classroom through a global lens. In M.M Atwater (Ed.), International Handbook of
Research on Multicultural Science Education. Springer International.
Wilder, O., Acharya, P., Butler, M.B., & Gill, M. (2019). Preservice elementary science teacher attitudes matter: A new instrument on positive affect toward science. Journal of Science Teacher Education, 30(6), 601-620.
National Geographic Learning. (2015). Exploring Science. Independence, KY. Program Authors:
R. Bell, M.B. Butler, K.C. Trundle, & J. Lederman.
Atwater, M.M., Russell, M., & Butler, M.B., Eds. (2014). Multicultural science education: Preparing teachers for equity and social justice. The Netherlands: Springer.