Mebane Hall dedicated in honor of multimillion dollar endowment supporting early literacy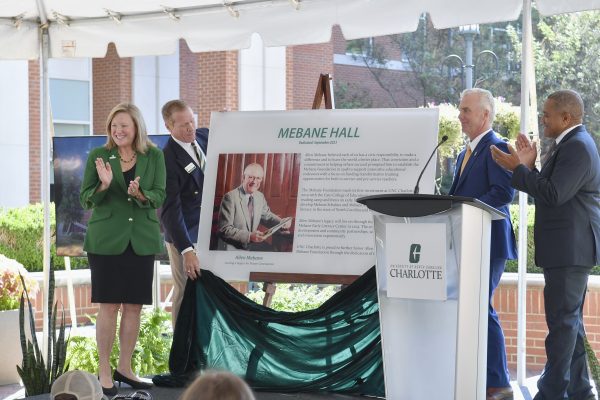 UNC Charlotte has named the building that houses the Cato College of Education Mebane Hall in honor of a transformative endowment of up to $23 million from the Mebane Foundation to support early literacy. The gift will establish the Mebane Early Literacy Center and allow the University to greatly expand its efforts as a leader in reading instruction in North Carolina and nationwide. Mebane Hall was officially named as part of a ceremony on Sept. 19.
The Mebane Foundation gift, one of the largest in the University's history, arrives following a report commissioned by the UNC System Board of Governors that designated UNC Charlotte as "strong" in literacy instruction, the highest rating achievable. UNC Charlotte is the only North Carolina public university to earn the distinction.
"Allen Mebane, one of this state's great business leaders and entrepreneurs, believed in the importance of childhood literacy," said Chancellor Sharon L. Gaber. "We are thankful to the Mebane Foundation and its board for their confidence in UNC Charlotte. Now, as countless future educators walk through the newly renamed Mebane Hall, they will be reminded of Mr. Mebane's lasting legacy of curiosity and innovation."
Teacher development, community partnerships, and early literacy research and innovation will each be amplified and enhanced through the gift.
"Many ask me, 'Why Charlotte?' And my answer is, the campus has a vibe," said Larry Colbourne, president of the Mebane Foundation. "When we arrived here, we immediately felt like great things are about to happen here. It's a building and it's Mebane Hall, and that is really exciting, but it's what goes on between these four walls that matters. Like Allen [Mebane], we must always be disruptors, we must always be innovators."
Mebane Early Literacy Scholars will receive an experience focused on preparing them to teach reading at a high level, one that includes:
Comprehensive coursework rooted in established research on teaching literacy effectively to all children
Hands-on clinical placements that afford sustained opportunities to see, practice, and engage in teaching literacy across diverse groups of students
Professional learning outside of course and fieldwork that extend teacher candidates' literacy-related knowledge, practice, and skills
Opportunities to engage with families, caregivers, and other stakeholders within communities to better understand the children they are teaching
"These experiences have been so rewarding and the knowledge gained from them has been invaluable. My time here has cemented my love for literacy instruction," said senior Caitlin McGennis, a participant in Mebane scholar pilot programming.
The Cato College of Education's summer reading camps also will benefit from the endowment. Operating since 2016, the camps provide Charlotte area elementary students who are struggling with reading resources and literacy support, teachers the opportunity to learn and practice highly effective evidence-based techniques, and teacher candidates with valuable clinical experience. The Cato College of Education has also developed Project ENRICH, which provides evidence-based tutoring year-round to elementary school students who need literacy support. The Mebane Foundation has been investing $50,000 annually in the University's research-based summer reading camp since 2019.
The college's approach to excellent literacy instruction can be seen in action at Niner University Elementary, where each student receives 30 minutes of small group research-based literacy instruction each day. The lessons are planned specifically to meet the needs of individual students and have produced significant results. UNC Charlotte teacher candidates contribute at Niner throughout the school year and during summer at reading camps.
In community outreach, the Cato College of Education will reinforce its commitment to serving as North Carolina's early literacy hub for networking, providing technical assistance and professional development to schools and community partners. New programming will include the Mebane Early Literacy Professional Development Series and annual Mebane Literacy Summit.
The Mebane Early Literacy Center builds efforts supported by the the Mebane-backed Project ENRICH and contributions by the Belk Foundation.
In the next decade alone, the Cato College of Education projects the Mebane Early Literacy Center will impact thousands of educators and K-5 students.
"Our collective vision is of a future where every student achieves success in reading. It can be done, and our college sees the path forward," said Cato College of Education Dean Malcolm Butler.