Equity in Action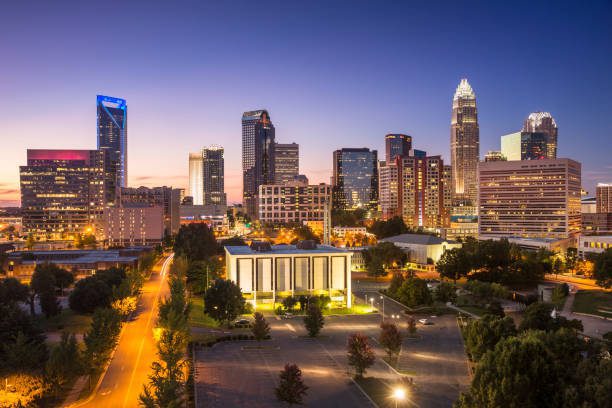 Community Connections
UNC Charlotte's inextricable link to its home city includes close connections with its surrounding school districts. Building on longstanding relationships and a commitment to the mutual exchange of ideas, the Cato College of Education and its partners are taking steps to continue to promote equity in the region's schools.
COVID-19 has made harnessing the recent energy for work in anti-racism challenging, but education faculty like Tehia Starker-Glass have responded with creativity. Starker-Glass, who serves as the Director of Diversity and Inclusion at the Cato College of Education, recently collaborated with leaders from the Rowan-Salisbury, Mooresville and Kannapolis school districts to host a virtual summit focusing on school equity.
"Through this partnership, we are able to provide on-going, high-quality opportunities for educator growth and development that empower our teachers to be more responsive and move toward more equitable student outcomes. I can truly say [the summit] has been transformative for our teachers who have participated," said Jessica Grant, director of Student Services and Secondary Education at Kannapolis City Schools.
The virtual summit is a continuation of community-focused work by faculty. Here are a few of the other structures in place that support these efforts.
Profound Niners
The Cato College of Education partnered with Profound Gentlemen to increase the recruitment and retention of male educators of color, and to enhance the support they receive as they prepare to become educators. The Profound Niners internship is a pathway to teaching that begins as a paid semester-long internship for UNC Charlotte students who meet eligibility criteria. Participants will gain authentic exposure to K-12 education through classroom service, tailored personal and professional development, and mentorship from highly-qualified Profound Gentlemen male educators.
Race Matters for Juvenile Justice (RMJJ)
Professor Tehia Starker-Glass from the Cato College of Education and Susan McCarter, a social work researcher and former probation officer, helped lead a group of judicial officers, experts, service providers and community partners through a two-day intensive equity workshop designed to build capacity of local community leaders and educators to understand, confront, and eliminate racial inequities.

"The facilitators taught us in two days what took me two years to learn in grad school. It was so beautifully presented and constructed to all come together in a very clear way. I wish this workshop was required for everyone alive." – Participant
Teacher Education Institute (TEI)
Supported by a grant from the Belk Foundation, the Cato College of Education's Teacher Education Institute (TEI) brings faculty who teach courses, on-campus student teaching supervisors, and the K-12 clinical educators who take student teachers into their schools to establish a common understanding of goo instructional practice and develop advanced coaching skills to support teacher candidates. Via a multi-day summer session and follow-ups throughout the year, TEI has emphasized equitable practices and coaching teacher candidates through an equity lens.

"I love the intentionality the Cato College of Education is establishing. TEI provided me with the opportunity and perspective to personally reflect and identify my own privileges, and by identifying my privilege I am better able to see and meet the needs of more of my students." – Daniel Maxwell, social studies teacher at Central Cabarrus High School

.
Charlotte Teachers Institute (CTI)
In collaboration with Johnson C. Smith University and Charlotte Mecklenburg Schools (CMS), UNC Charlotte faculty are leading seminars where teachers learn content and work together to develop new curricula for their students through the Charlotte Teachers Institute (CTI). Faculty member Erin Miller recently facilitated a CTI course on anti-racist pedagogy working with 12 CMS teachers. The teachers final unit plans can be found at https://charlotteteachers.org/category/curriculum-units/2020/vol-6-anti-racism-and-pedagogy-what-does-it-mean-to-be-an-anti-racist-teacher/.

"Watching them take theoretical assertions about anti-racism from readings, films and conversations and deploy those in pedagogical ways that make sense for their students, their content areas, and their professional settings is incredibly inspiring." – Miller
Community Equity Committee
When the Charlotte-Mecklenburg Board of Education created its Community Equity Committee, it selected Professors Bettie Ray Butler and Chance Lewis, the Carol Grotnes Belk Distinguished Professor of Urban Education, from a list of more than 350 volunteers. The pair will work with the 40-person committee to review and discuss CMS data and programs in order to monitor progress toward equity.
The Urban Education Collaborative
Professor Chance Lewis also leads a UNC Charlotte group formed in Fall 2011 to serve as a research and outreach hub focused on improving urban schools in the state of North Carolina and the nation; it's one of the few groups of its kind. The Collaborative's biennial International Conference on Urban Education welcomes hundreds of attendees from every state in the United States and participants across the world to facilitate solutions-based discussions on the topic.

"What we look at are the structural impediments that keep students and people in urban communities from reaching their full potential. What keeps schools from not being on the same level playing field? And we deal with those types of issues and anti-racism from the structural all the way down to individual acts. Charlotte's educational history coupled with recent growth and a strong culture of innovation makes it an ideal location for groups like the Urban Education Collaborative to conduct research and programming." -Lewis
Through efforts like these, UNC Charlotte is dedicating itself to providing teachers in the region the tools to create classrooms where all students can thrive. And these group approaches are just a small portion of overall efforts by faculty and staff, who provide guidance on an individual basis to groups across the country.
E3 Meetings
E3 meetings are a manifestation of the Cato College of Education's mantra, "Excellence through Equity and Engagement." The E3 meetings are a brown bag series of presentations and discussions centered around diversity, equity, and inclusion not only for the Cato College of Education, but for the community it serves. These meetings are intended to serve as a means of on-going professional development for faculty and staff, but also welcome students and community stakeholders to engage in productive civic discourse. These one-hour sessions, typically held monthly during the academic year, support the Cato College of Education Diversity Committee's goals of increasing awareness of diversity, equity, and inclusion; promoting advocacy for traditionally marginalized groups; and exemplifying the need for social justice in our community.
Education Preparation in Action Cadre (EPAC)
The Education in Action Cadre (EPAC) is geared towards creating learning environments and courses that are equitable and prepare future professionals who embrace equity, social justice, and antiracism. Built upon a lesson study framework, this cross-departmental network explores various problems of instructional practice related to issues of diversity, equity, and inclusion. Groups form and collect data on areas of similar interest, then design and implement instructional strategies to confront instructional equities. Each academic year, EPAC members showcase the highlights of their work with other staff and faculty members. When appropriate, they also provide professional learning opportunities for colleagues across the college. Current EPAC members include:
Paul Fitchett (Dean's Office)
Hilary Dack (MDSK)
Daniel Alston (REEL)
Luke Reinke (REEL)
Chris O'Brien (SPCD)
Erik Byker (REEL)
Nick Triplett (MDSK)
Sandy Rogelberg (REEL)
Sloan Storie (SPCD)
Kristi Godfrey-Hurrell (SPCD)
Beth Oyarzun (EDLD)
Lenora Crabtree (MDSK)
Michelle Stephan (MDSK)
Joan LaChance (MDSK)
Samantha Gesel (SPCD)
The School Counseling Spotlight
The School Counseling Spotlight is a podcast created by the Urban School Counseling Collaborative to connect their research to practicing school counselors. J. Anthony Elizondo, the podcast's host, is a collaborative member, a former school counselor, and a second-year doctoral student in UNC Charlotte's Counselor Education and Supervision program. The focus of our first set of three episodes is diverse populations in urban communities. Each episode focuses on populations such as students experiencing homelessness, students receiving ELL services, and crossover youth. Resources related to each episode's population are curated by the collaborative and posted along with each episode so that practicing school counselors are well positioned to serve those groups of students after engaging with the episodes. Episodes can be streamed at uscc.charlotte.edu or with most podcast hosting apps.