Advanced Readers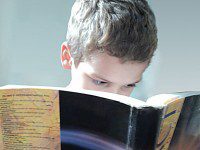 Students who are advanced in reading typically begin to read either on their own or with the help of an adult or older sibling at a very young age and before they start school. These are children who may have a passion for reading about a variety of topics or just one. They may also enjoy reading all different types of literature. Advanced readers may also have a large vocabulary for their age. They can understand complex story lines and the humor in stories. To nourish these students' love and talent for reading and learning, here are some tips:
Here are two websites that can help you determine the reading level of a book:
Website Suggestions
Resources for Locating Books for Advanced Readers:
Because advanced readers may be at a wide range of reading levels, here are some recommended online books lists that can help you locate appropriately challenging books for your child.