Teach For America Students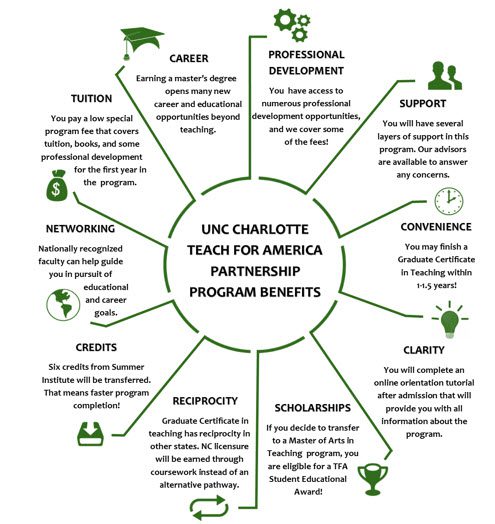 The benefits offered in the UNC Charlotte-Teach for America Partnership apply to Graduate Certificate candidates pursuing initial teacher licensure. More than 120 Teach for America lateral entry teachers have earned licensure by completing a graduate teaching certificate, with many moving on to complete the Master of Arts in Teaching. UNC Charlotte teacher education programs are nationally accredited and have reciprocity with most other states.
Initial teaching licensure graduate program information for TFA teachers:
Elementary Education Graduate Certificate and MAT
Middle, Secondary, and K-12 (Foreign Language) Education Graduate Certificate and MAT
UNC Charlotte Resources for TFA Graduate Students:
Graduate School– Comprehensive website for new applicants and current students exploring graduate programs at UNC Charlotte.
Graduate Center– Is host to interdisciplinary and partner graduate programs within UNC Charlotte and other state institutions. Facilitates the TFA agreement with UNC Charlotte, manages billing, and collaborates to offer social and professional engagement opportunities for TFA participants.
Center for Graduate Life – Provides space, services, and programs to support the success of graduate students.
Financial Aid – Assists students with graduate fees.
University Career Center – Offers assistance with interviewing, cover letter and resume writing. TFA teachers can explore additional opportunities in teaching, non-teaching, and service professions.
Office of Field Experience – Provides all information needed for the graduate student teaching internship which is required before graduation.
Student ID Office – 49er ID Card gives enrolled students access to campus activities and programs, athletic events and recreational facilities, computer labs, and Atkins Library loans.
Additional Resources for TFA Graduate Students:
Charlotte TFA – Local TFA information including community resources.
North Carolina Department of Public Instruction – Responsible for all aspects of state's public school system.
College of Education Pinterest Page – Teaching related ideas, materials, stories, and information.
College of Education Facebook Group – UNC Charlotte announcements and College of Education student stories, events, and activities
Charlotte-Mecklenburg Schools with TFA Graduate Students:
Albemarle Road Elementary
Allenbrook Elementary
Ashley Park Pre K-8 School
Berryhill Middle School
Bruns Academy
Cochrane Collegiate Academy
Eastway Middle School
Garinger High School
Harding University High
Highland Renaissance Academy
Hornets Nest Elementary School
J.H. Gunn Elementary
James Martin Middle School
Kennedy Charter
Kennedy Middle School
KIPP Charlotte
Martin Luther King Middle School
Nathaniel Elementary
Newell Elementary
Pinewood Elementary
Rama Road Elementary School
Ranson Middle School
Reid Park Academy
Sedgefield Middle School
Statesville Road Elementary
West Charlotte High School
West Mecklenburg High School