Kindergartner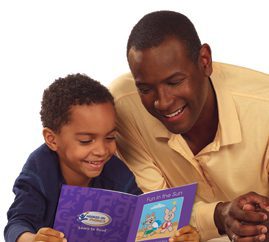 Ask questions while reading with your Kindergartener such as "What do you think will happen next?", "Do you think you would do something different if you were in the story?", "Is the author trying to teach us a lesson. if so what?".
Read books that have rhyming words or poems, this will help your child hear the sounds in the words, ask your child to find other words that sound the same.
Point out the parts and purpose of the book (cover, title page, dedication, spine, text, illustrations, author and illustrator). Help your child make her own book.
Continue to read for fun even after your child learns to read, read books that are above your child's own reading level. Discuss the meaning of unfamiliar words.
Talk with your child. Encourage your child to explain something he or she did at school or with friends on the playground. Ask open-ended questions that will encourage conversation between you and your child.
Read with your child. Select books about topics that interest your child. Connect what you read together to what happens in life. For example, if you're reading a book about animals, relate it to your child's experience with his or her own pets or to a visit on a farm.
Have fun together extending some of the foundational literacy skills learned in school, like letter recognition, listening for beginning sounds of words, and writing names. Point out print in everyday life–cereal boxes, toys, restaurants, traffic signs. This helps your child to learn that print is all around. Computer apps–StarFall, ABC Ninja, Sand Draw, Little Writer, Teacher Me Kindergarten–can help too.
Create a reading-rich environment at home. Have books, pretend-materials, letters, markers, and paper available to your child. Have books and other reading materials for yourself too. Let your child see that you like to read.
Book Suggestions (Classic and Contemporary) for Kindergarteners:
Bemelmans, L. Madeline.
Brett, J. The Mitten.
Brown, M. Stone Soup.
Cannon, J. Stellaluna.
Dr. Seuss. The Cat in the Hat.
Drummond, R. Charlie and the New Baby.
Funk, J., & Kearney, B. Lady Pancake & Sir French Toast.
Gorbachev, V. Cats are Cats.
Hoberman, M. A House is a House for Me.
Lane, N., & Krall, D. Naughty Mabel.
McCloskey, R. Make Way for Ducklings.
Polacco, P. Fiona's Lace.
Reagan, J. How to Babysit a Grandma.
Zion, G. Harry the Dirty Dog.
Website Suggestions: