TFA Student News and Announcements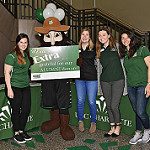 Great News TFA students! A $1000 scholarship is available for eligible students who transition immediately from the Graduate Certificate in Teaching to the Master of Arts in Teaching degree program (e.g. Students who complete the GCT in Fall, must be admitted to begin MAT courses during the following Spring). Please email uncc-tfa@uncc.edu for application information.


UNC Charlotte named its College of Education for the Cato Corp. during a campus ceremony Friday, Nov. 11, 2016. Now it's called the Cato College of Education.